Bear with me. I realize that title and subtitle is groan worthy. I will explain later. Try to bear with me, because, wow… I have a LOT to say. This is a VERY long review – several pages – just know what you're getting into. That said…
Final. Fantasy. 7 Remake. A game, honestly, I thought would never happen.
Did it?
Much has already been said about this wild, beautiful video game, and certainly the fans seem to be divided on whether or not FF7R can even be called a "Remake" of the original game so many of them grew up loving over twenty, staggering years ago.
Gone is the methodical and (for most of the game, anyway) easy turn-based combat of the original – replaced by the flashy, exhilarating rush of challenging, punishing action that might seem more at home within the Devil May Cry series.
Added are not only wide swathes of color and character and life to the scenes and settings of the city of Midgar, padding critics might say, bringing a stronger sense of grounding and gravitas to the story and some of its more emotional beats, but also shall we say interesting flourishes of plot device that serve up something of a mystery even to players of the original game (more on these so-called mysterious spectres later).
Plenty of the content of the original game has been edited and altered to better fit not only the game's much more graphically robust and modern visualization, but also its new narrative structures and devices. It may come as a surprise to many, but, no, Final Fantasy 7 Remake is not a one-to-one re-creation of the original with beefed up graphics and a new combat system. Final Fantasy 7 Remake is not afraid to stretch its legs and take confident strides into "what might have been" had significant members of the original team behind the game released all those years ago had done things… a little differently.
What we're presented with, then, instead of a perfect, loving re-creation, is a fresh start. One that was, at least for me, quite literally stunning both visually, and by the sheer brutality and boldness of the artistic vision I was soon made shockingly aware of. After I completed the game for the first time, I thought to myself, wow, what a fun, great game. Things had been tweaked a little here and there, maybe there were some narrative devices that I didn't think quite worked, or that I found personally distasteful, but overall, all the important story beats were there and handled with more than just care, but with true adoration. This was certainly an important game, and the direction and art design were second to none. But the game's not just a technical masterpiece. The team that crafted this game intends it to be something a bit more intriguing – and for some terrifying. I didn't want to believe it at first. So I reviewed the source material. Put down the tin foil, ladies and gentlemen, because where we're going we won't need theories. But we will need maybe a little faith.
Before I get into any further discussion of the narrative, and into spoiler territories, though, I want to discuss, at length, the combat. To be quite honest, I did not like it at first. I didn't like it when I saw it in the trailers, I didn't like it when I saw it being played, and I didn't even like it at first once I finally fired up the game. It felt off. You have what amount to auto-attacks that you can chain together literally just by holding down a button that, alongside blocking (as well as simply passing time, albeit much, much more slowly), fill up ATB meters. Characters have two such meters and can take more powerful actions such as using Items, Spells, or Abilities. For the most part, though there is some additional nuance, that's it. It works, and by the time I completed the game, I definitely found that I enjoyed the core mechanics of the combat gameplay. The auto-attacks aren't so insignificant that they serve ONLY to boost the ATB meters, they inflict some real damage. The Abilities are nicely varied between powerful attacks, buffs, and utilities. The characters have different fighting styles which is a nice touch and all play very differently from one another even without all of the materia customization you can do in the game. Bosses are spectacular setpieces, requiring plenty of perseverance and concentration, notably challenging and epic. The skeleton is good. It's the details that flesh it out that I very often found frustrating.
Let me get my biggest peeve out of the way first. Scanning enemies is, correct me if I'm wrong, not anyone's favorite jRPG mechanic of all time? FF7R makes it all but mandatory that you do it every time you face a new, challenging enemy. Combat in the game, beyond the first few chapters, becomes so entrenched in this "attack the enemy weakpoint!" style that, despite it not needing to be designed like this, there are woefully too many fights where not only does it feel like your auto-attacks are just for filling your meters, but that if you don't have the right materia equipped or attack learned, if you can't strike the weakpoint for massive damage, then you're just going to have a bad time. It's… unnecessary and confusing to me. The designers made several interesting mechanical choices throughout the gameplay, but this one, I think, stood out to me as the most awkward.
However, hands down, the most frustrating thing about FF7Rs combat to me, again, was not anything to do with how the combat generally plays out, but just in the way the development team chose to implement one detail. And that detail is debuffs. Either they work, 100%, or they don't. Unfortunately there are very few items to protect your characters from status abnormalities, and none that I found to protect them against the worst of them. And they are delivered just by getting hit by enemy attacks. Which wouldn't be so bad if so many of the worst offenders weren't attacks that are easily spammed, sometimes by many of the same enemies in an encounter, and often in areas of effect. There are monsters that just throw pools of poison on the ground, walk through it, you're poisoned. There are monsters that breathe little cones of bubbles that if they touch you, you fall asleep. There are monsters that throw stun grenades and monsters that can paralyze you or even turn you into a helpless frog. And aside from avoiding these attacks, once you get hit, well, that's it. Now, presumably, using the poison and binding materias, perhaps much of the game's combat can be trivialized in similar fashion, spamming action lock status debuffs on the enemies like Sleep and Stop, but I haven't tested that out. I know one particularly challenging late-game boss can be cheesed with Sleep, but that's the extent of my knowledge on the matter.
Now, status ailments being so all or nothing would be even more frustrating if the characters' AI weren't so garbage as to be effectively useless when not controlled by the player. There is no setting to change this, or tweak AIs in any fashion at all, actually, when not controlled by the player, other members of the party often run around aimlessly, sometimes blocking attacks, but mostly doing absolutely nothing to increase their ATB meters. Since non-player controlled characters are so pitiful anyway, it's a no-brainer to just swap control to another character if the one you were controlling is suddenly put to Sleep or Paralyzed, but one has to wonder why the AI of the characters is so bad in the first place. It is almost never worth it to spend your active character's action to use an item to remove even a status like Paralyze, because, for the most part, you can simply get by with using the actions of a different character. Oh, yeah, and non-player controlled characters won't even use their actions even if they have filled the ATB meters…
It's for these reasons and a few other, minor quibbles, that I titled this article "The Dark Souls of FF", knowing full well the way the term is thrown around in gaming journalism. To me, a lot of the mechanical decisions in the way combat works in this remake specifically feel designed only to make the game harder for hardness' sake in the way many "Soulslikes" so often completely miss the mark of what made Dark Souls so enjoyable in the first place. To be clear, no, Final Fantasy 7 Remake is not a soulslike, nor do I have any reason to believe its designers and developers were remotely inspired by From Software's signature games. These frustrating mechanics seem like they could have been pretty easily tweaked away or fixed and I have a nagging feeling that they weren't necessarily issues present from the beginning or even toward the end of the game's development but were rather hasty patches added onto their combat system after some playtest feedback, but, overall, none of them detracts TOO much from what is definitely still a very solid and fun action combat system. It still feels like Final Fantasy, and it still feels like an RPG, for sure. It's a good combat system, even if I personally found it to be, in some ways, flawed.
Beyond this point – HERE THERE BE SPOILERS. I repeat, if you do not want to read anything regarding the ending of this game, and I must stress this, if you HAVE completed the original game but you HAVEN'T completed Final Fantasy 7 Remake, I would personally advise you – STOP. I WILL NOW DISCUSS FF7R'S STORY. THERE WILL BE SPOILERS FOR THE ENDING. Continue to play Final Fantasy 7 Remake all the way to the end, even if you've already beaten the original. This is your last SPOILER WARNING.
If you played the original Final Fantasy 7 and you loved the story, you will not be disappointed by the important story beats Final Fantasy 7 Remake retells and expands upon. It is layered and layered upon with a new richness of character development and lore that makes all of those emotional moments so much more deep and impactful. But you might also be… a little confused by some of the creative liberties.
Almost immediately, you're going to notice Cloud having his headaches and even within the first couple chapters, you're going to have Sephiroth's first appearance. If you played the game and you felt maaayybe this was a little too soon, you're not alone. Sephiroth is loud and in your face through the game's narrative throughlines, but, oddly, perhaps even louder are these incredibly weird, incredibly vague to the point of being nonsensical even, ghost… things. What are they, even the characters don't know. Why… are they… we as players have no idea, but it seems obvious that they are some new, dramatic flourish being added into what is a re-telling of the original story. Weird, but alright.
Throughout the events of the game, little is directly changed from the original, despite new sidequests and side characters being added, and new life breathed into some of the original cast. Who didn't love the Angel of the Slums, for one example, or Jessie's unquenchable new thirst? The writing and directing teams really knocked story additions like this out of the park.
Where things admittedly do go slightly off the rails are toward the end. After the plate is dropped and Aerith taken by the Turks, the gang are ready to infiltrate Shinra tower and save their friend, and presumably finish out the story content of this first part of the Final Fantasy 7 Remake. Unfortunately, what had earlier in the game seemed like loving additions of content, in this stage of the game definitely came across more as padding to me. There were new side quests to indulge in, because, look Aerith is probably fine and her mom doesn't want you to save her for reasons that, while thin, are understandable. You'll find yourself revisiting old areas where the old enemies are now more challenging. There is a TON of content in the latter half and final acts of the game's story, so much so that I often thought I was facing a final boss or viewing one of the game's final events only to be thrown back into what ended up being hours of new content. It's almost a shame, so much of the latter half of the game feels so fluffed up. There's even a sort of adventure/fight/puzzle sequence in Hojo's labs that really feels like it only exists to pad out and delay the final act.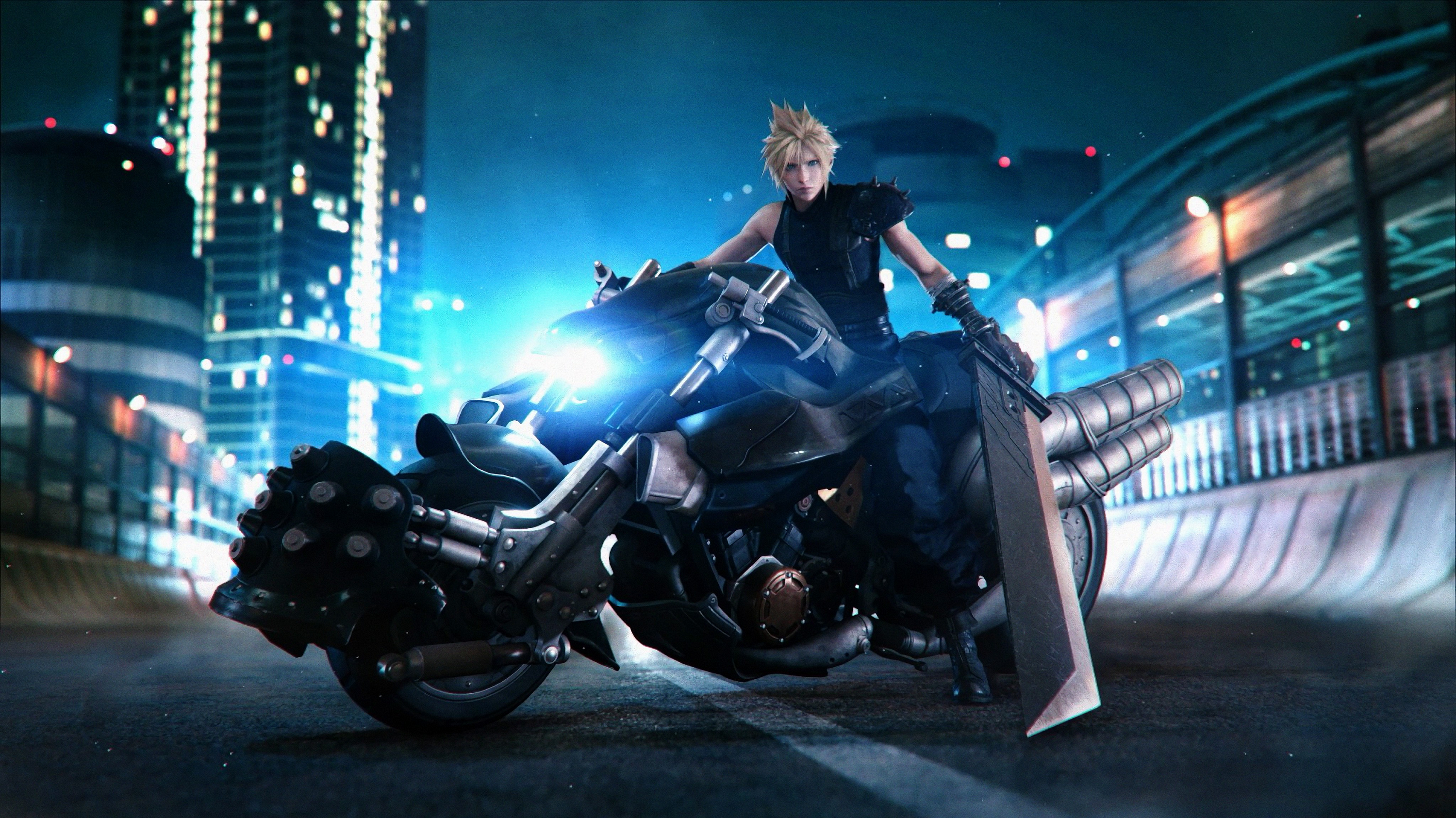 And oh boy, what a final act. So, I've explained the "Dark Souls" part of my title. Now, we must talk about The Fast and the Furious, because holy shit does the ending throw so many ridiculously over the top action sequences together, over and over to the point that it becomes actually laughable – you might actually laugh out loud at their absurdity – I sure as hell did. I'm talking about hitting a whole room of soldiers in the face with your motorcycle while you're driving it. I'm talking about driving said motorcycle out of the window of a skyscraper. How about diving off of a giant tower to catch your friend whose grappling gun failed and then turning around to shoot your own grappling gun? Maybe cleaving through segments of highway and scattered i-beams as the entire world seems to be exploding and imploding with your giant anime sword is more your speed. Don't worry, because those final chapters have all that and more! It's… it's a little over the top. It doesn't ruin the game for me, no, I mean, I actually enjoy the Fast and the Furious series as a somewhat guilty pleasure, but for a game that for the most part stayed surprisingly gritty and grounded it did feel tonally weird.
But now we come to the part where we've got to discuss the highly controversial ending. Because the ending of Final Fantasy 7 Remake does a few truly insane and remarkable things. Where the gang would have left Midgar in the original FF7, they are confronted by Sephiroth and by, again, the mysterious spectres that have been haunting them all game. By now it's been revealed to them that these ghost things are actually arbiters of fate, agents of destiny attempting to ensure that events unfold the way they are supposed to. There's a lot of nonsense dialogue, to be perfectly honest, and before you know it, we are fighting Fate, personified, capital F. I have a lot of issues with the general execution of this, but I am not going to discuss all of that right now. Honestly, I could probably write another 1500 words on that alone, and this article is already quite long. I simply want to discuss what this means and the ramifications for Final Fantasy 7 Remake going forward. As a bossfight, we defeat Fate, and these mysterious spectres that, at least as far as the game tells us, were preventing anyone from changing the way events were supposed to happen, are gone, they disappear. We've destroyed them, it would seem. Now they aren't there to make sure things happen the way they should after the main cast leaves Midgar and departs on their journey to confront and stop Sephiroth, something the characters in the original game didn't even really know they would be doing at that point in the story. For obvious reasons, this is where the Remake departs most boldly from the source material and it calls into question just exactly what veteran fans of the original game are now getting themselves into. Do we know anymore?
I didn't believe it at first. Maybe I didn't want to. Okay, sure, the spectres were a strange narrative device, but it's just a hook to make sure the old veteran players are intrigued enough about the series to need to finish it through. Nothing major actually changed, right? Well… the writers and the directors are definitely up to something. The game hints as much several times throughout the game. Aerith is not only not telling you what she knows about these spectres, she's also not telling anyone that she knows the plate's going to fall and there's nothing anyone can do to stop it. She knew, potentially even before the start to the Remake's storyline, what was going to happen up through destroying Fate itself. Again, correct me if I'm wrong, but I don't recall that ever being the case in the original, that Aeris knew the future. More than that, it seems implied that Sephiroth has similar knowledge in the Remake, and that maybe Cloud does too. There is, after all, an oddly out of place Cloud headache vision long before the ending of the game where he sort of sees Aerith in the Temple of the Ancients.
But perhaps the most mindblowing revelation comes in the form of what at first seems to be an unnecessary and jarring scene of how Cloud got his Buster Sword and to Midgar. Veteran fans of the original game already know, Cloud wasn't really a SOLDIER, not first-class anyway, he was a rookie and he was friends with another SOLDIER named Zack, Zack who was the first guy Aerith fell in love with, Zach who actually used the Buster Sword before Cloud took it from his dead body. Heavy stuff. Escaping from Shinra, Zack didn't want to work as a SOLDIER for the vile company anymore and attempted to run away, Cloud with him, but Shinra pursued them and killed Zack, leaving Cloud for dead. But we are shown Zack, presumably in the past, fighting against waves of Shinra goons and winning before a backdrop of those same mysterious spectres, agents of fate are surrounding the entire city of Midgar who, after we've won that boss fight, explode away from the city, disappearing, as if destroyed in the past as well as our main characters' present. Zack survives in this scene, carrying a wounded Cloud with him into Midgar. It would seem, by the end of Final Fantasy 7 Remake we have rewritten reality. And Zack isn't the only character presumed dead to be shown alive. Biggs has somehow survived as well…
I welcome whatever changes this new future brings to the Final Fantasy 7 Remake, but there are many who disagree. Many fans feel this ending cheapens the emotional weight of the original, hell, of even the new Remake events that we just played through. If Zack and Biggs are alive, did anyone die? Will anyone? Aeris dies in the original game, and a huge segment of the fanbase thinks her death is essential to the story, and that changing it would be akin to a cardinal sin against Final Fantasy 7, to its memory, and to the fanbase. I don't think so. Look, we don't know what is going to happen now, but what I can tell you is this. If the team in charge of what we just played treats the ongoing installments of this storyline with as much love and as much attention to detail as they did this game? Final Fantasy 7 Remake, uh, 2 (what are they going to call them?) is going to be an exciting and incredible experience.
Look, I have a lot to nit pick and a lot of what I feel are legitimate issues with some of the technical execution of the Final Fantasy 7 Remake; however, those issues aside, in fact, in spite of those issues, it is a masterpiece of gameplay and storytelling. It is a genre-redefining and once-in-a-generation experience. Let me be clear – I passionately LOVE this game. I am wildly envious of those players experiencing this game and this story for the first time with the Remake, players who never played the original and don't know how even this Midgar segment, let alone what comes next plays out, but you know what? Now we all get to feel that way again. And I, for one, can not wait for more.